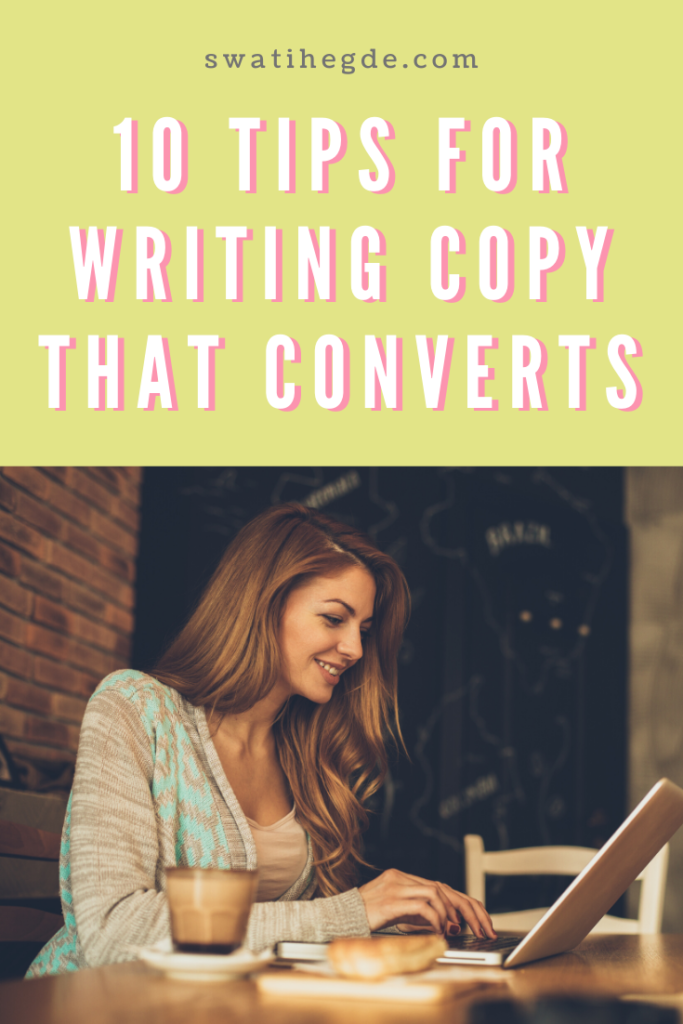 Writing copy that converts might seem tricky, especially when you're a coach, not a writer. But using these 10 tips in your business will make your sales skyrocket, and all because of good copy.
So you want to write good copy. No, not just good copy: you want to write copy that converts. Because maybe you're trying already: posting on Instagram, Facebook, LinkedIn; churning out a blog post every month and pinning it to Pinterest; DIY-ing your website copy and hoping Google falls in love. But it's not working.
Well, here are 10 tips to get you closer to your next sale.
1: Get Clear on Your Messaging
What do you do? No, not "business coaching". Who do you serve? How do you serve them? Do you help side-hustling mompreneurs or frustrated virtual assistants? Get specific in your messaging so you're speaking to your ideal client and nobody else.
2: It's Not You, It's Them
Your dream clients don't care about the service you sell. They care about the transformation they'll get. So don't make it about the weekly coaching calls or the unlimited Voxer access. Make it about THEM. Their pain points, their struggles, their goals, their dreams.
3: Embrace Your Inner Grammarian
You don't want one typo or misused word changing the entire message of your copy and confusing your dream clients (I've seen that happen, just so you know). Read about grammar, use plugins like Grammarly, and proofread your work or outsource it to a copy expert (*ahem*).
4: Consistency is Queen
Nobody gives a shit about good copy if it's here today and gone tomorrow. You want to be top-of-mind for your dream client. Post a few times a week. Blog often. Update your website copy. Sell your services every. Effing. Day!
5: Start With a Bang
People are lazy and/or have no time. You have a few seconds to grab their attention with a heading that pops on your blog or social media post, and then they're gone. Write headings that are clear and concise and make people stop in their tracks: whether because of the promise of value, something controversial, or just LOL-humour.
6: Formatting For the Win!
Break up your content with subheadings, bullet points, or bolded text so that even if your dream client is skimming, they're still getting the value they were looking for.
7: Be JK Rowling
Isn't that the dream? What I mean is, use the power of storytelling whenever you can, especially if it's an inspirational or motivational post: maybe a client story, or your own transformation then vs. now. Take your dream clients on a journey and show them the happy ending.
8: Screw Your English Teacher's Advice
We all got good grades in English for using flowery language and big words. That's not how copywriting works. Be simple, specific, and succinct from start to finish. Remember, people have no time anymore. You want them to understand your messaging right away.
9: Have a Call to Action, ALWAYS
I don't care what type of post it is: a promo post about your coaching program, your about page on your website, or a blog post like this one. Put a call to action (CTA) at the end of all your copy. "Click the link in my bio to apply for the program / Send me a message so we can talk about growing your business / Comment below with your favourite copywriting tip." A CTA is a must.
10: Stop Struggling and Start Outsourcing
So these tips sound great and obviously, they work. But what if you don't know how to make them work? After all, you're a coach, not a writer. Then just hire someone to do it for you. Copywriters know their shit. Make use of their experience and expertise so your business flourishes.
Which tip about writing copy that converts helped you the most? If it was #10, you know what to do. buy antabuse tablets Click here to read more about my services, or book a free call here to chat about your copy and content needs.
Love hard & dream big,