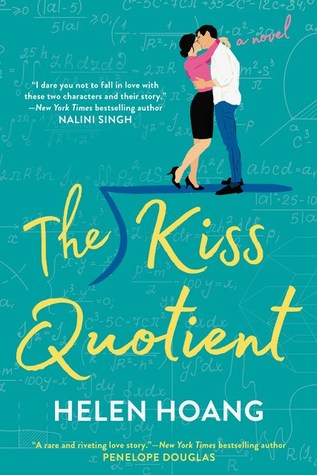 Stella Lane thinks math is the only thing that unites the universe. She comes up with algorithms to predict customer purchases–a job that has given her more money than she knows what to do with, and way less experience in the dating department than the average thirty-year-old.
It doesn't help that Stella has Asperger's and French kissing reminds her of a shark getting its teeth cleaned by pilot fish. Her conclusion: she needs lots of practice–with a professional. Which is why she hires escort Michael Phan. The Vietnamese and Swedish stunner can't afford to turn down Stella's offer, and agrees to help her check off all the boxes on her lesson plan–from foreplay to more-than-missionary position…
Before long, Stella not only learns to appreciate his kisses, but to crave all the other things he's making her feel. Soon, their no-nonsense partnership starts making a strange kind of sense. And the pattern that emerges will convince Stella that love is the best kind of logic…
It's not very common to find books with neurodiverse protagonists – especially not in the romance genre. When I came across The Kiss Quotient on Goodreads, I knew I had to read it.
I'm not a very fast reader anymore. My work involves my beta reading and editing manuscripts for hours on end, so I can't read for pleasure all night long without my eyes hurting. But I read this book in a few short days, and I couldn't keep the grin (and blush) off my face the entire time.
Fair warning, this book is quite… sexy. If you're not into that sort of thing, don't read The Kiss Quotient. I'm not very fond of explicit sex scenes, and I'm not saying that just because my dad might read this review. I'm just being honest. I didn't know how I would like it at first, but I actually thought the sex scenes were romantic and tastefully written, rather than full-on erotic.
Stella and Michael's chemistry is electrifying from the get-go, and I was worried they might slip into insta-love territory, but the pacing was just right. Their interactions were fun, hilarious and utterly adorable. Like I've already mentioned, I was grinning from ear to ear during my read.
"I don't want just a night or a week or a month with you. I want you all the time. I like you better than calculus, and math is the only thing that unites the universe."
The book teaches you some important love lessons along the way, and it definitely taught me more about autism than I ever knew in my whole life. I especially loved Michael's mother and sister, who were the defining secondary characters in bringing the couple together in the end.
"If you can't stand being with a woman who's more successful than you, then leave her alone. She's better off without you. If you actually love her, then know the value of that love and make it a promise. That is the only thing she needs from you."
The ending felt a bit rushed, but otherwise, this book is one of the best romance novels I've read in my entire life. And I've read a LOT of 'em.
I'm going to go with 4.5 stars out of 5 for The Kiss Quotient. Funny, heartwarming and utterly sensual, this book is a must-read for all romantics.
You can pick up a copy of The Kiss Quotient on Amazon, add it to your shelf on Goodreads, and follow Helen Hoang on Twitter.
Read the last book review I did here.
I'll see you Geeks next time, with a different book!