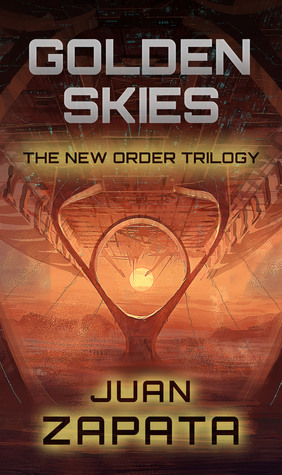 A man-god and his army of religious zealots swarmed the South nine years ago. As a child, Malik watched severed heads falling, blood spurting onto concrete, and his dear grandfather run through by a black sword.
But there's peace…somewhere. At least that's what Malik tells himself as his body is ripped apart by whips at a religious conversion camp. That's what his best friend whispers as he frantically creates new force jetpacks to rescue Malik.
Yet when war bursts through the skies, and the sky troopers, assassins, and heroes fall—when the world comes crashing down—Malik Zzoha stands strong amidst the sands, infidel of the state number one.
Golden Skies is the first book in the The New Order trilogy.
I'm not a huge fan of sci-fi novels, really, and I haven't read too many of them. Why? I can't say for sure. Maybe because they're fast-paced, action-packed and adventurous, and I like my reading – and my life – to be slow and steady.
But I got the opportunity to read an early draft of Golden Skies over two years ago. While I still don't read much sci-fi except as a copy editor, this novel has become one of my favourites, especially after Juan Zapata made several rewrites and revisions and brought to life the amazing novel that it is today.
The thing about Golden Skies that appealed to me was its honest take on religion and tyranny, and how the two intersect. The scary thing is that a lot of dystopian fiction and movies show us what might actually happen in the future if we don't see the error of our ways. Golden Skies does, too.
How I see it is… religion is something that can either bring you close to someone or tear you apart from one another. The way things are going right now in this world, the latter is more likely to happen. Maybe it's already happening. Golden Skies is a great book for anyone who's interested in looking at religion, politics and war from a sci-fi, futuristic perspective. Whether you're religious, atheist or agnostic, you need to give this book a read.
Some more things I loved were the tongue-in-cheek humour, the solidarity between Malik and his friends (Kafed, his best friend – the hilarious, sarcastic inventor – was a favourite of mine), how Zapata stressed the importance of standing up for what is right, not what is easy… Okay, yeah, there's a lot I liked about Golden Skies.
I'm going to go with 4.5 stars out of 5 for this one. Partly because I never give 5 stars unless the book is Harry Potter, but also because I'm a die-hard romantic and would love to have seen a romance angle. However, a little birdy tells me there will be a love interest in book two, so… fingers crossed!
Juan Zapata is a skilled storyteller, and I know the next two books in the series are going to be just as good, if not better. I'm waiting with bated breath!
You can buy Golden Skies on Amazon. Be sure to add it to your shelf on Goodreads. And to know more about the author, visit his website here.
Until the next review, bookish Geeks!